1Step Video Converter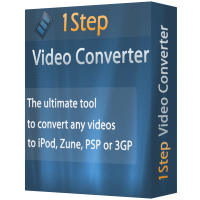 All your videos will be ready for playback on your portable device in no time. With 1Step Video Converter you can easily watch any your videos on your computer, iPod, Zune, PSP or mobile phone. 1Step Video Converter can produce incredible high-definition files for smooth viewing on Full HD TV screen as well as tiny video clips for a mobile phone or iPod.

1Step Video Converter is your ultimate tool to convert MPEG4, MPEG, DivX, Xvid, WMV, AVI, Tivo, (S)VCD, RealMedia and other videos to your computer, iPod, Zune, PSP or 3GP formats in high quality at high speed.



1Step Video Converter supports the following devices (formats):
Popular video formats (DivX AVI, MP4, Windows Media, Flash Video)
Popular audio formats (MP3, OGG, AC3, FLAC, WAV etc.)



Apple media (iPod, iPhone, QuickTime and AppleTV)
Portable players and consoles (Zune, PSP, Archos)



Mobile and smart phones (3GP, MP4 mobile, RealMedia, Windows Media mobile)
HD gaming consoles (XBOX360, PlayStation3, Wii)
Other popular devies (Creative Zen, iRiver, Cowon)
1Step Video Converter features
a complete tool for easy conversion of videos to portable devices
converts practically all audio and video files
converts to many many popular formats including - DivX AVI, MP4, Windows Media, Flash Video, MP3, OGG, AC3, FLAC, WAV, etc.
many conversion profiles for portable devices avialble
converts in best possible quality your device can handle
easily handles large music and movie collections
fast conversion, your entire media library will be converted in no time
Product Screenshots